Performance...
Family Performers by generation:

Paul Askew
joined the BBC's Aberdeen Station Orchestra in February 1926, playing violin and viola. When the Orchestra was disbanded and replaced by an Octet in November of that year, as a result of the BBC's policy of centralisation, Askew was appointed Conductor. Records show that he officially became a staff member on 7 October 1926 and, in 1926, came to the BBC's Aberdeen Station Orchestra. In the same year he was appointed musical director at the Aberdeen station and also served as assistant station director. He conducted the station orchestra in most north-east towns, at the Cowdray Hall and Art Gallery concerts, and at concerts in connection with Lord Provost Lewis's Hospitals Fund. He also became familiar to Children's Hour listeners as 'Uncle Paul'. With the effective closing down of the Aberdeen station, except almost entirely for relay work, from 1 October 1929, Askew and many others at the station lost their jobs, and the station octet was disbanded. Askew suggested to Aberdeen Town Council that they establish a municipal orchestra in the city in view of the growing popularity of Aberdeen as a holiday resort, but nothing came of it. Askew subsequently transferred to the BBC's London headquarters at Savoy Hill as a balance and control engineer. This was a highly technical role which required many years of musical experience. From 2 September 1935, he was given additional duties as 'co-ordinator of all dance band broadcasts' under Eric Maschwitz. Before joining the BBC, Askew 'had travelled widely and seen life and musical work in many places and capacities'. He was a master of the viola. At the beginning of the First World War, he served in the Royal Marines in the Cameroons, where he was in charge of communications. Later he was on HMS Cumberland on the West African Station, and in 1916 on the Lion, Admiral Beatty's flagship, and was in the Battle of Jutland. After the war ended he became a member of one of the best-known seaside musical combinations in Britain — the Llandudno Pier Orchestra, under Arthur W Payne.
The 1923 Llandudno Pier Orchestra consisted of: 1st violins, leader and solo violin John Bridge, J. F. Matthews, L. Connabeer, P. Askew, F. W. Bell, A. E. Voorsanger, 2ns violins H. Fawcett, principal, F. Park, 'cellos W. Warburton principal, E. Wright, H. Southworth, double basses E. Stansfield, principal, A. Stott, flutes A. Halstead, H. Lyttler, piccolo H. Lyttler, oboe and cor anglais A. Nicholls, clarinets F. Gomez principal, G. Slade, bassoons A. F. Wood principal, P. Langdale, cornets A. Harris,principal, P. H. Whitfield, horns A. C. Thonger principal, H. Jarvis, trombones E. Old principal, J. Southworth, euphoneum J. Southworth, tympani etc., H. A. Dunn, bass and side drums etc, P. S. Allan, solo harpist H. Jarvis, solo pianist and accompanist George Atkinson.
Percy John Thunder was an organist and pianist and performed at the Chapel Royal and in churches and at events in the Brighton and Horsham Area. Frank Butler was Percy's organ and piano teacher.
Florence Mary Askew played the guitar and sang.
John Knowles started singing as a boy soprano at the age of 7. At school he acted in plays and sang in choirs and performed on speech days with solo pieces and performed in various plays until leaving school. At 15 he joined Ian (Thunderfoot) Purdey and John Sloman to form his first band and eventually joined 'The Spartans' as a bass player and singer. This led to joining the singer/actor/comedian John Cassidy in 'The Barristers' a London-based band. During the time with The Spartans he played on the same bill as 'The Rolling Stones,' 'The Hollies,' 'Georgie Fame and the Blueflames' on several occasions and did some recording with a Canadian singer 'Johnny Reno.' His last band in London was 'The Riot Squad.' Eventually went to Keswick College (now part of the UEA), where he helped form a rock band called 'The Bill of Rights' playing bass and singing. The band played on the same bill as 'Manfred Mann,' 'Dave Dee' etc. 'The Kinks' and others. Since then the college band re-formed as a four piece calling itself '4heads' as they were all headteachers - a band that ran for 20 years. He joined 'Tuckers Torpedoes' for about 3 years and helped form the Norwich based 'Mojo Band' some 20 odd years ago and has sung with them ever since. Beryl and John help run the Hellesdon Community Choir a community project started over 5 years ago. It has some 60 members and offers open access to sing popular and classic songs. The choir offers opportunites to visit shows, perform for local groups, a book swap and a chance to simply socialise and form friendships.
Becci Francis is Sue's oldest child and has worked as a dancer, singer and choreographer with British Stage Productions (2201 -2005), a touring company specialising in pantomime, variety shows and summer season productions She toured nationally as a member of a tribute band (2002 -2003) and is a noted experienced dance teacher - teaching since 1997 - with a string of qualifications including: Royal Academy of Dance (RAD RTS) Registered Teacher holding the Teaching Certificate in Ballet and Imperial Society of Teachers of Dance (ISTD CDE) level 4 teacher in Tap, Modern and National. Facebook: https://www.facebook.com/becci.francis Twitter: @beccifrancis Her current dance projects includes 'Me and Thee Dance' at Bury: https://www.facebook.com/metheedance/
David Hunter is Sue's son who was the lead singer of Reemer a professional band with a strong following who supported McFly in their Radio Active Arean Tour. In 2011 he was part of the original cast of One Man, Two Guvnors at the National Theatre, subsequently he was part of the show that toured and then transferred to the Adelphi Theatre in the West End. Following this in 2013, he went on to appear in the musical adaptation of The Hired Man at Colchester Mercury and Leicester Curve. In July 2012 David was featured in the ITV programme Superstar a show where Andrew Lloyd Webber was looking for a musical theatre performer to play Jesus in the arena tour of Jesus Christ Superstar. David made it to the final four before being voted off the show. 
In May 2014, he took over the role of "Guy" in the West End production of Once, having previously understudied the role. In August 2016 he replaced Killian Donnelly in the role of Charlie Price in the West End production of Kinky Boots at the Adelphi Theatre. In 2019 he joined the original West End cast of Waitress, again at the Adelphi Theatre, in the role of Doctor Pomatter. David can be seen on Youtube at: https://www.youtube.com/user/davidhuntervideo/videos and followed on Twitter at: @thedavidhunter on Facebook at: https://www.facebook.com/david.h.francis.58 his website is at: http://thedavidhunter.com/
---
Tuckers Torpedoes - A show band with a blues feel playing original music by keyboard/sax player Pete Davidson. Guitar: Dave Basham, Drums: Paul Wooden, Bass: James Young. John replaced Giles Conneely as the singer in the last few years of the band - wonder if there's a message there?


Cookin' For You Baby
Low Life
A couple of tracks from Tuckers Torpedoes in the late 1980s.
First band... whos is the thin guy on the bass?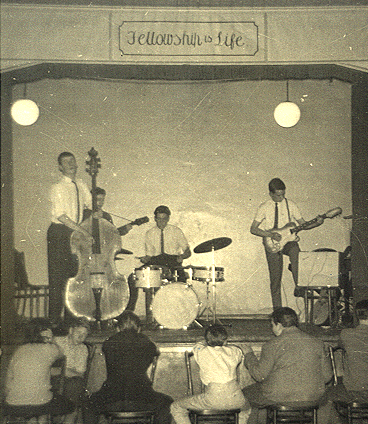 The original 4heads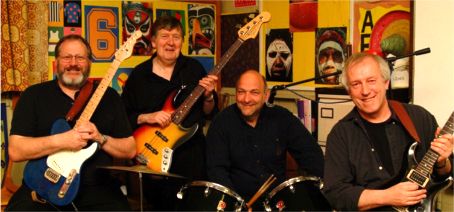 Becci and David
Becci (far right) - an early project 'Performing Arts School Knutsford LIPA'

Latest project...

David - latest pic from his website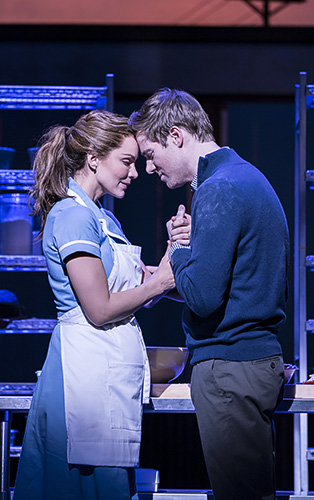 David with Katharine McPhee in Waitress.